<![if !vml]>
<![endif]>
About us        Products       Services        Contact          Security Forces            Motorsports               News & Events
Terrex & Bionix with 400HP Electric Hybrid drive Option Upgrade
<![if !vml]>
<![endif]><![if !vml]>
<![endif]><![if !vml]>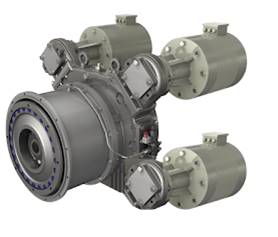 <![endif]>(Made in Italy)
i) The 400 HP Electric Drive Hybrid as shown above mounted between Terrex Caterpillar C9 diesel engine and Allison 4500SP transmission.
ii) The 400 HP Electric Drive Hybrid as shown above mounted between Bionix Detroit Diesel 6V-92TA diesel engine and HMPT-500EC fully hydro mechanical transmission.
The hybrid system is as simplicity at its best: the system has been designed to be fitted on any combustion engine, as long as it has an SAE standard flywheel and housing and to any type of SAE standard transmission. The "electric machine" has a double function, working as an electric motor in the electric mode and as an electric generator in the thermal power mode.

This hybrid system has been designed with the help of the main rechargeable battery manufacturers and of the main manufacturers of driving systems for permanent magnet electric motors, so as to be easily fitted between different components giving smooth communication between them.

The thermal power approved for this series can go up to 1100 kW (1475 hp) while the electric power can reach 300 kW (400 hp) by using four heads as power take-offs to fit the nominal 75 kw (100 hp) engines (100 hp).
<![if !vml]>
<![endif]>
Battery is the next-generation accumulator for land system applications.
It is based on lithium iron phosphate cells (LiFePO4), a technology that is safe and has the best performance/cost ratio, with integrated BMS to maintain the cells always equalized and efficient.
Battery gives great usage flexibility and reduces the total ownership costs, thanks to its 3000 cycles lifespan, being maintenance-free and allowing opportunity fast charging to increase the daily available energy.
It is available in various sizes and capacities, and it has been equipped with special features for the best integration with transmission system. DNV-GL Type Approval order number: A0402415
<![if !vml]>
<![endif]>
<![if !vml]>
<![endif]>
European Armour Union Pte Ltd
10 Anson Road #10-11
Singapore 079903
E-mail: sales@euroau.com
Web site http://www.euroau.com